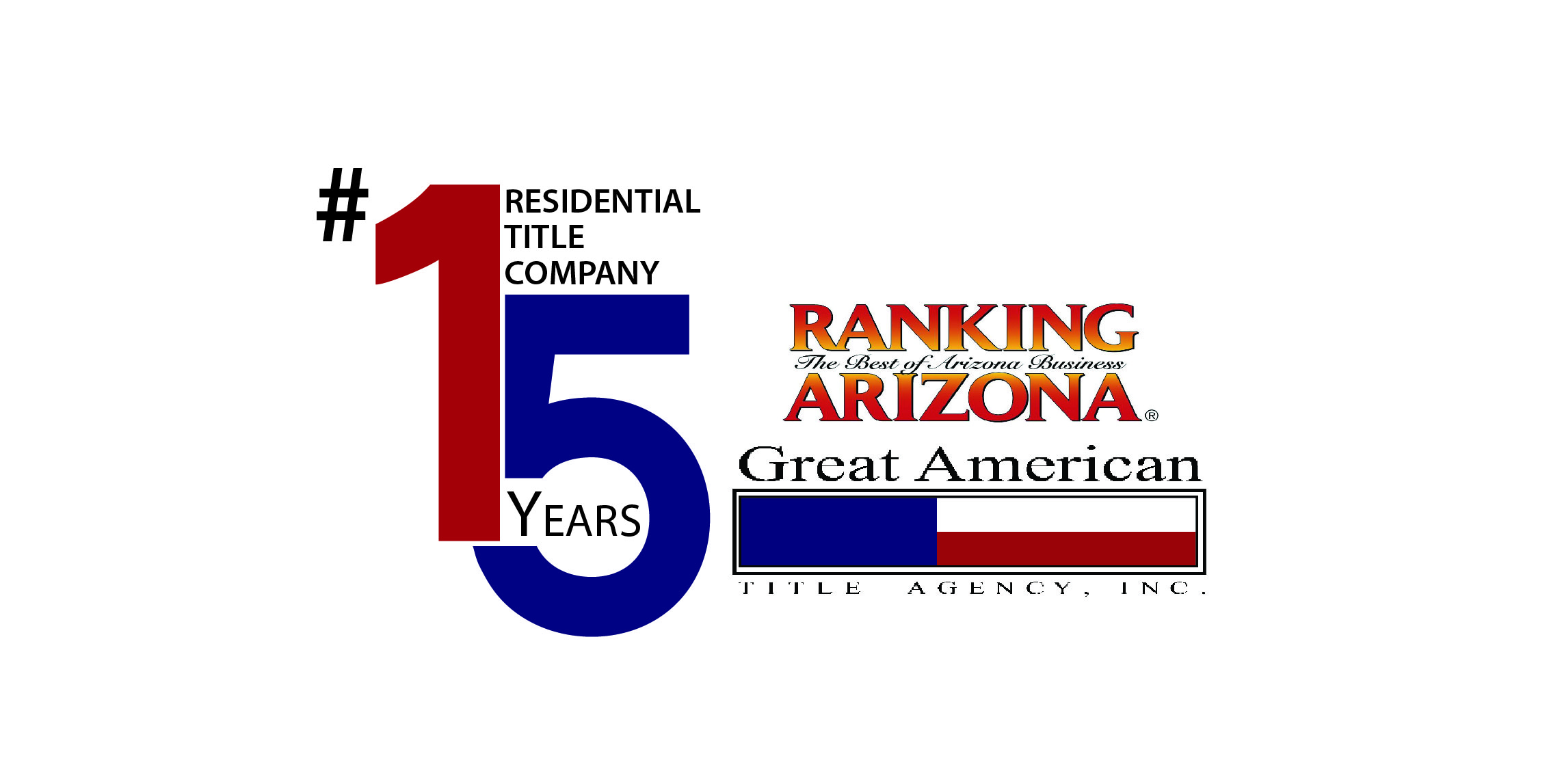 Great American Title Ranked #1 in Ranking Arizona for 15th Consecutive Year
April 10, 2023
Great American Title Agency Ranks as the No.1 Title Company in Arizona
Great American Title Agency earns title for 15 consecutive years from Ranking Arizona Magazine
(PHOENIX) April 10, 2023 — Great American Title Agency (Great American) is very proud to announce it has been ranked as the No. 1 Title Company in Arizona by Ranking Arizona Magazine: The Best of Arizona Business in both the residential and commercial title categories.
Achieving a No. 1 ranking for fifteen (15) consecutive years in the residential title category and No. 1 for two (2) consecutive years in commercial title is a testament to the commitment of the entire team to provide the best possible service every time. "It clearly demonstrates that our commitment to put people first is recognized by our customers. Being ranked # 1 is a milestone for any company and one for which we are immensely proud" said CEO Bruce Beverly.
"The last few years have been unprecedented for our industry and Great American, through initiative, innovation, and resilience, demonstrated that it could adapt and still provide a consistently superior level of service. Each day presented new challenges and through enormous effort and self-sacrifice we achieved success. This recognition validates for everyone on our team that our commitment to providing the best possible service is not only recognized by our community but motivates our loyal clients to keep coming back," said President Tom Connaker.
Through its "Community Outreach Program" Great American continues to support numerous local non-profit organizations, including outstanding organizations such as the Boys & Girls Clubs of Greater Scottsdale, The Care Fund, veterans, students, and teachers through free tickets at the Scottsdale Arts, and the Phoenix Children's Hospital.
About Great American Title
Great American Title Agency, Inc. is a full-service title and escrow agency founded in 1998 with 4 employees. Based in Arizona, Great American currently has 81 employees in 15 branches committed to providing superior service. Among its numerous awards, Great American has in the past been ranked No. 1 title company for most insurable transactions in Maricopa County in the Phoenix Business Company and was voted as one of Arizona's Most Admired Companies in 2012. "Think Great. Think Great American." Visit www.azgat.com, or call 602.445.5525 for more information on our services.
Company Contact:

Thomas Connaker, President

Great American Title Agency, Inc.

602-445-5525

tconnaker@azgat.com

Media Contact:

Braydon Dennis, VP. Sale & Marketing

Great American Title Agency, Inc.

480.695.1996

BDennis@azgat.com